For more info on our online Performance Appraisal Software System CLICK HERE

---
A highly intensive and practical 1-day workshop that will equip line managers with the skills and confidence to conduct those normally "dreaded" Employee Performance Appraisals/Reviews, with positive results in terms of organizational goal achievement, as well as employee morale and competence enhancement.

TARGET AUDIENCE

The Constructive Performance Appraisals Workshop aims at all levels of management, including team leaders responsible for conducting Performance Appraisals.

WORKSHOP OBJECTIVES

At the conclusion of this workshop, participants will:


1. Understand the Benefits of Performance Management as a crucial management vehicle for achieving organization goals.

2. Have a basic understanding of Performance Management, including related tools and techniques.

3. Know how to develop/formulate Goals/Objectives, Key Performance Indicators (KPIs), Competencies, and Performance Standards.

4. Be able to utilize the following Generic Performance Interviewing Skills:

Effective Listening (incl. Body Language & Tone Of Voice).
Giving Constructive Feedback (Praise & Constructive Criticism).
Facilitating Through Questions.
Responding With Empathy.
Handling Difficult Appraisees.
5. Be able to conduct an effective Performance Appraisal:
Planning and preparing for the appraisal.
Conducting the appraisal (facilitating agreement on Actual Performance and Ratings for each Performance Measure).
Identifying environmental barriers impacting on performance.

Identifying jobholder (appraisee) training and development needs, and completing a Performance Optimization Plan (POP).

Following up.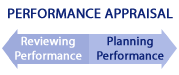 BENEFITS OF EFFECTIVE PERFORMANCE APPRAISALS BY LINE MANAGERS

Benefits to the organization:
Facilitates the achievement of organization goals and strategies.
Contributes to improved staff morale.
Facilitates continuous performance improvement, organization development and culture change.
Assists in establishing a performance culture - of quality, efficiency and achievement.
Provides a formal means of discussing competency gaps and how to address these - leading to a more competent work force.
Helps build a climate of openness and trust.
Adds to a participative work culture.
Forms part of the legal process in addressing persistent poor performance.
Provides the basis for fair remuneration based on actual performance, so employees can see and experience a clear link between their performance and the financial rewards they receive.
Benefits to Employees:
An opportunity to get formal feedback from line managers on how their performance is viewed - so that they can learn what they do well and what needs to improve.
Ensures clarity regarding work expectations and standards, reducing anxiety/stress and conflict with line managers.
An opportunity to discuss their job competencies (or lack thereof) - leading to targeted training and development - helping them to realize their full potential.
Provides a forum to share new ideas and to air views.
Training in the effective conducting of Performance Appraisals/Reviews will reduce Line Manager reluctance and fear to do these with their direct reports. If done well, stress and conflict during the Appraisal are drastically reduced
WORKSHOPS
Available as company in-house workshops only

For reservations and costing, please Contact Us
Back To Training Workshop List